Commercial Auto Insurance in New Hampshire
What is Commercial Auto Insurance?
Businesses that own vehicles in New Hampshire should insure their vehicles. Many accidents resulting in substantial property damage and/or injury occur each day, and some of those involve business-owned vehicles. Commercial auto insurance policies are normally used to insure business-owned vehicles.
Commercial auto insurance policies may be written for practically any number of vehicles. From single vehicles to large fleets of vehicles, insurance companies offer policies that can accommodate almost any number of vehicles.
What New Hampshire Businesses Need a Commercial Auto Policy?
Many companies rely on vehicles as an integral part of their business. Goods need to be delivered, contractors need to pick up supplies and face-to-face meetings need to occur (regardless of how heavily we rely on the internet). Without a truck or vehicle, where would your business be?
Whether or not your company owns a vehicle, if you or an employee's vehicle is used for company business and is involved in an accident, your business could be held responsible for the damages. Not having coverage in place leaves businesses exposed to the potential costs of an accident, and those costs can be extremely expensive if an accident results in substantial property damage, severe injury or death. Having business auto insurance is an affordable way to help mitigate covered potential costs.
What Coverages Are Included in Business Auto Insurance Policies?
Similar, but different than a NH personal auto policy, a standard business auto policy may cover the liability arising out of the ownership, maintenance or use of a covered auto and can be customized to meet the needs of the business. (A vehicle owned by a law firm would need different insurance than a livery driver.)
While typically commercial auto insurance is not required by law in New Hampshire, this type of policy can provide significant protection for your business. Standard policy options include:
Covered Autos: The NH Business Auto policy allows flexibility in the types of autos insured from any auto driven, to specifically described autos, to non-owned autos. This flexibility is great to meet the specific needs of a business, but can cause problems if those needs and uses change. Speak with an experienced insurance professional to understand the options.
Liability coverage: can include bodily injury and property damage you are legally obligated to pay, including hospital and medical bills, pain and suffering and lost earnings. This can also include defense costs as well.
Medical payments: coverage for medical expenses incurred by occupants of a covered auto, regardless of fault.
Uninsured motorist (UM): Given car insurance is not mandatory in NH, UM can be a critical protection for your business. It is a coverage that provides a source of recovery for occupants of a covered auto who are injured in an accident caused by an at-fault motorist who does not have the state minimum liability limit.
Collision: provides coverage for your vehicle if it collides with another object (excluding an animal) or overturns.
Comprehensive: provides coverage to your vehicle if damaged by something other than a collision including fire, theft, vandalism, hail, glass breaking and collision with an animal.
Rental Reimbursement: should you need to rent a vehicle while your vehicle is being repaired/replaced due to a covered loss.
Hired non-owned coverage: can extend coverage to an employee-owned vehicle if deemed loss occurred while conducting company business.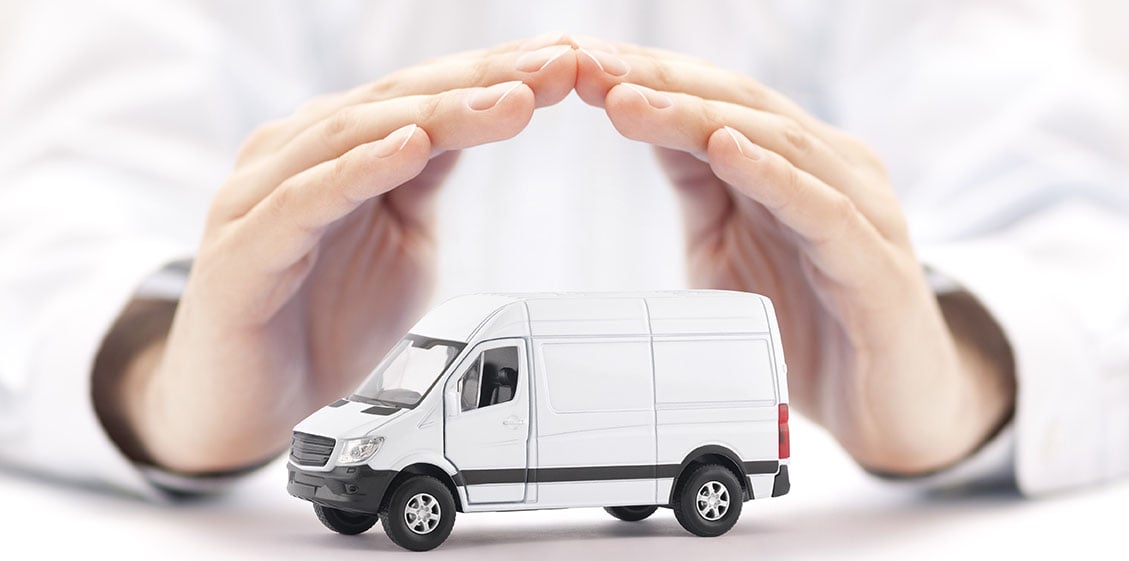 Do Business Owners Who Drive Personal Vehicles for Work Need Business Auto Insurance?
Many business owners use their vehicles both commercially and personally, so what type of policy should you have? This answer will depend on several factors that should be discussed with an insurance professional. These factors can include:
How is the vehicle titled and registered?
Who drives the vehicle?
How is the vehicle used?
What type of vehicle?
Do you have liability limit requirements outlined in a contract?
Determining the usage is critical because many personal auto insurance policies will exclude any type of business activity. There are also limits on the amount of liability coverage offered as well as vehicle weight limits on a NH personal auto policy. Every policy has its own terms and conditions that must be considered in light of a business owner's specific situation, though, and an experienced insurance agent can help with the process of determining what coverage solution is most appropriate.
New Hampshire Insurance Requirements:
New Hampshire is one of the few states in the country that does not explicitly require vehicle owners to obtain auto insurance when a vehicle is registered. However, not having insurance could be financially devastating due to the fact that just because you are not required to have insurance, does not mean you would not be required to pay should your company be held legally responsible for an at-fault accident.
How Can Businesses Lower Their Auto Insurance Premiums?
There are several ways businesses might qualify for lower auto insurance premiums. A number of insurance companies offer discounts for the following:
Paying a policy's premiums in full at the time of purchase

Only letting commercial licensed drivers operate vehicles

Remaining claims-free for a set amount of time

Bundling business auto coverage with other commercial policies
The most common ways to bundle coverages together is with either a business owners policy or a commercial package policy.
How Can Businesses Get Commercial Auto Insurance?
For help finding a commercial auto policy that'll protect your business and its vehicles well, contact HPM Insurance. Our independent insurance agents have helped many businesses in New Hampshire find commercial auto insurance for their vehicles, and we'd be happy to help your business as well. Since our agents are independent, you can trust that they'll show you the best available policies regardless of what insurer offers them.