Condo Insurance in New Hampshire
Condominiums are a popular housing option throughout New Hampshire. Whether you are looking for easier day-to-day living with less yard maintenance or the ability to have a worry-free escape into NH's lakes region or mountains, condos provide a great housing option. Because condos are a unique form of housing with you owning a portion of the building and the condo association owning another, it needs a specific insurance policy to ensure you are properly protected.
NH Condo Insurance Has Multiple Parts
Condominiums have become increasingly popular in New Hampshire, but many residents do not understand their insurance obligations. Condo owners should have two policies that work together. The master policy is purchased by the condo association and typically covers the exterior of the condo and common areas. A personal condominium insurance policy will cover just your unit and can pick-up where the master policy left off. Because there is a potential for a gap in coverage, you should work with an insurance agent who is experienced in writing NH condo insurance to ensure your NH condo is protected.
Master Policy
Before you purchase a personal condo policy, you should understand what your condo association's master policy covers as this can vary based on the association's by-laws. Here are few examples of what a condo owner may see in the bylaws:
Studs-in: If the bylaws refer to studs-in, this could mean that the condo owner is responsible for insuring everything in the interior of the condo from the studs in. This could include dry-wall, floor coverings, cabinets and counters and fixtures. If this is the case, you would need to consider the replacement cost of permanently affixed items and add this to the dwelling portion of coverage.
All-in: This is broader coverage offered on the master policy as it can cover all or some of the permanent fixtures within your home, but again, you must refer to the bylaws for specifics.
Improvements and betterments: Some bylaws will cover any improvements you do to your unit (like upgrading your kitchen) however you must notify them in writing. The reason is that the association will want to adjust the master policy coverage, so they need to know about it.
By providing your agent a copy of your bylaws, they can help you determine what is right for your specific situation.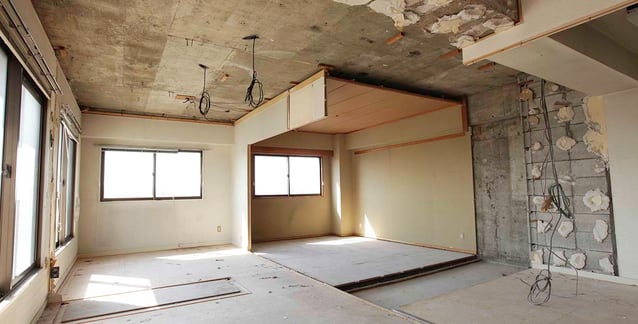 NH Condo Insurance Options
Like homeowners insurance, condo policies help to cover your personal property, some dwelling coverage (depending on your bylaws) and your personal liability. Ideally, your condo policy will dovetail with your association's master policy to provide comprehensive protection leaving fewer gaps without overlapping coverage. The amount of coverage you need depends on how much you own as well as what is not covered by the master policy.
Dwelling coverage
Dwelling coverage on a NH condo policy starts at $5,000 however can be increased to meet your needs. Again, you many need to cover items your dry-wall, cabinets, counters, lighting and floor coverings. The dwelling coverage typically applies to anything permanently a fixed within the unit.
Personal Property
Personal Property coverage is just that, your personal property including furniture, clothing, appliances, tv, etc. When purchasing a condo policy, you will need to determine the amount of coverage that is right for you. Unlike a homeowner's policy where the personal property coverage is a percent of the dwelling coverage, you do need to estimate how much coverage is enough to replace all your belongings should there be a total loss. This coverage will vary if you are looking to insure, for example, a condo in Amherst which serves as your primary home, versus a slope-side condo in Franconia, NH that has minimal furniture and personal property in it.
Personal Liability
A personal condo policy will usually include personal liability coverage. This can protect you for incidents such as someone tripping on your doorstep on getting bit by your dog. Given the close quarters of many condo units, this coverage can be especially important as it can also protect you in the event you have a loss that also damages another unit.
Loss Assessment Coverage
When you own a condominium, you could be assessed by the condo association for a loss to common property that exceeds the amount of coverage on the master policy. This can also apply if the master policy's limits are exceeded in a liability claim say if someone slips on the ice in the parking lot.
4 Reasons why you should contact HPM Insurance now:
If you don't have condominium insurance, you could be risking your financial future.
If you do have a condo insurance, did you receive professional advice and consider the bi-laws of the condo association? If not, you most likely have large gaps in coverage or duplicating coverage.
We have offices throughout the state of NH, including in Amherst, Bedford, Bristol, Franconia and Laconia.
HPM Insurance can provide you with a free,

no-obligation quote. Just enter your zip code above to get professional advice at a reasonable price to protect you and your home.
HPM Insurance has been writing Bedford condo insurance, and condo insurance throughout New Hampshire and New England for decades. We look forward to hearing from you!